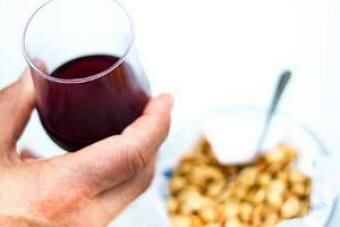 A team of scientists have said that found that consumption of a daily glass of red wine and peanuts can help boost memory.
The team found that red wine and peanutsboth contain a wonder anti-oxidant called resveratrol that helps boost memory. This compound is capable of protecting against damage and helps prevent age-related mental decline, according to the team.
The compound is also capable of mopping up chemicals responsible for causing blood clots, which is the main cause of coronary disease. The team gave older rats doses of the compound and they noted an improvement in learning, memory and mood. The team believes that the same can be applied to humans.
Experts said that resveratrol, which is found in the skin of red grapes and in some berries, has the potential to prevent heart disease. Professor Ashok Shetty, of Texas A&M University said that it also has positive effects on the hippocampus, which is a part of the brain responsible for the thought processes.
Experts have said that both humans and animals show a decline in cognitive capacity with aging and the study might have implications on treating memory loss. The study was published in the online journal Scientific Reports.