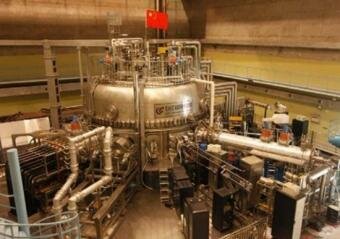 This week, the quest for sustainable nuclear fusion took a remarkable step forward when a group of Chinese scientists reported that they have come up with plasma registering at a scorching 90 million degrees Fahrenheit, thrice hotter as compared to the core of the sun.
Though the hotter temperatures have been achieved earlier by the Large Hadron Collider, the most enthralling part of the test was the fact that the trial maintained the balmy warmth for nearly 102 seconds.
China's Experimental Advanced Superconducting Tokamak, or EAST, scientists carried out the experiment in Hefei in a donut-shaped reactor that uses a very powerful magnetic field.
When in use, the magnetic field holds back the plasma into the shape of a torus or donut to prevent it coming in touch with the metallic sides of the reactor. Due to this, the sides of the reactor never really come in contact with the 90 million degree plasma, which is preferred to avoid the any catastrophic occurrence.
China's success in sustaining such a high temperature for more than a minute and a half is a very encouraging step forward. But, EAST would be required to continuously sustain an even hotter temperature for extensive periods of time for the successful creation of usable energy.
The thing that makes such a successful trial especially appealing is that in case a reaction continuously sustains itself at high temperatures, it would really create a never-ending energy source as strong as the sun.
During a scenario wherein the natural resources on Earth have been continuously dwindling, the vision of this achievement is absolutely fascinating.
As per the Institute of Physical Science in Hefei, the scientists worked day and night to make the trial's endurance perfect.